It is so easy to get discouraged with the political climate in today's world. Then when we hear the latest disturbing facts regarding how fast the environmental climate is changing for the worst, we wonder how everything is possibly going to turn out okay. If we pay more attention to the young people of today (and less to negative news), and see the areas where so many of them are offering to give their gifts and talents, we might be encouraged. I know I am when I study the children in my own family. I dedicate the following quote to my two oldest grandchildren, and the ones who are coming up behind them - both mine and yours.
"This person before me may be instrumental in saving us from nuclear war. In this person are gifts for the healing of the planet. In this person are powers that can redound to the joy of all beings."..Joanna May, Peace is the Way
My oldest grandchild, Cameron, seen here in costume for singing Christmas carols in the DFW area with the Uptown Carolers. This is something they do every year during the holiday season. (And get paid handsomely for it, too!)
Cameron is not only the current Director of Lifespan Religious Education at the Westside Unitarian Universalist Church in Fort Worth, Texas, but also attends Seminary at TCU..(Brite). Cameron has a new position with the national Unitarian Universalist organization part-time now, full-time in June, having beat out 30 other applicants. This will entail lots of travel consulting with churches on educational and youth programs.
In January, Cameron
attended
a Borderlands Seminar
in El Paso, Texas
with students of the Brite Divinity School
. This photo is taken of people seen at the border of Mexico behind a portion of the "fence" needed to keep them out of the U.S.. To me, it appears that small children (or really skinny adults) could easily squeeze through the bars.
This group of Brite students was in El Paso "to study the ethical issues around migration/immigration and its effects on the people and communities." This is according to Brite's website at the link above.
Cameron just sent me this short report on the El Paso trip;
January 9th:
"Donald Trump Jr. using dehumanizing rhetoric, wants to push the narrative that there are 'animals' on the other side of the border. We only met these sweet kids, and couldn't help but wonder what they must think of growing up at this wall. What must it feel like to grow up in harsh economic conditions while observing prosperity just feet away? What must it feel like to watch those border patrol agents drive by vigilantly as they arrest your family members who are merely trying to feed you? The implicit message: You don't belong."
January 10th:
"More reflections from The Borderlands. On day 1, We met with Fr. Arturo Banuelas. One of the most inspirational people of faith I've ever met. After mass and a visit at his home, he took us to The Annunciation House, a migrant shelter which takes overflow from the detention centers, particularly for families. The vast majority were Central American asylum seekers who recounted stories of violence and extreme poverty. The kids were precious. I talked to many of the families in my very limited Spanish, but when words failed, we sang together. Music knows no language barriers. Most of these families were filled with optimism; convinced they had found sanctuary. Unfortunately, I learned most of them would eventually be deported. The El Paso district has a 90% + rejection rate for asylum seekers. Folks literally fleeing for their lives; who earnestly want to work; and are anything but violent criminals. What happened to 'Give me your tired, your poor, your huddled masses yearning to breathe free'?"
(libertyellisfoundation)
Cameron has always been involved in politics one way or another. With the gifts of a beautiful voice, working with and influencing young people, and being spiritually and socially conscious, Cameron will certainly have a positive influence in the future of our country and others.
****************************************************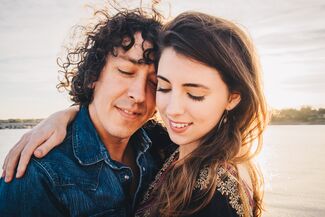 Erick and Audrey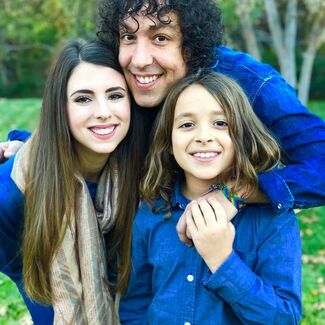 My second oldest grandchild (she is four months younger than Cameron!) is getting married June 1st. Not only will I gain a grandson-in-law, but I will finally become a great-grandmother - even if it's by proxy!
Audrey, with a Master's Degree of Environmental Management from Duke University, has taken on a new job in recent months. She

now works at a utility-scale solar development company, Core Solar, based here in Austin. She is a "project coordinator and the lead strategist for integrating pollinator habitat with solar projects." Her work is too complicated for my aging brain, so the easiest explanation - but certainly not detailed - is that she now locates areas for the company to build solar "farms" where they do not threaten necessary pollinators such as Monarch butterflies, etc.. Her entire career, even summer employment while still in school, has been in one area of environmentalism or another, all contributing to her expertise in her current position.
I've written in the past about Audrey's ballet and musical talents. She currently plays violin in the Central Texas Medical Orchestra, which raises funds for local health-related nonprofit organizations.
Which brings me to her beloved, Erick. Not only is he a professional musician, but he romances Audrey with guitar and love songs..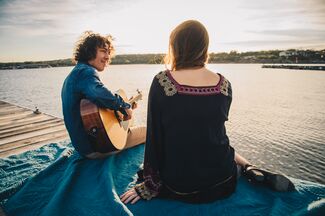 Erick plays guitar and sings with a band he and his friend Nico formed in 2016. Their debut album "Suelta",
which means, "let go" "is an inspiring message in today's political climate where governments want to build walls instead of bridges. Nico elaborates, "the theme of 'letting go' pertains to xenophobia, racism, misogyny, homophobia, classism, all of which are driven and propagated by people's fear." He adds, "We are at a turning point politically, where the few in power are trying to maintain their grip on these outdated mindsets, but the overwhelming majority are no longer buying into the divisiveness of the previous generations and are ready for a change. Only by letting go of our fear can we break down these walls."..(excerpt from Broadway World). You may hear this exciting Columbian funk music at the upcoming SXSW.
With young folks like these, who are so dynamic in their beliefs, talents, and aspirations, how can we not have faith in our future?
Love, Peace, and Hope for the future,
Marilyn